LIBRARY RESOURCES
INSTITUTIONAL REPOSITORIES (DIGITAL HARBOUR):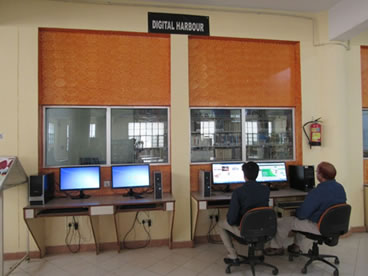 This caters to the needs of faculty, staff and students who wish to retrieve information through the ONLINE mode. A rich repository of:
e-journals (over 600 through DELNET)
Surveys and Dissertation of PG-level students (both Management and Computer Applications Departments)
Available E-books (also through DVDs or CDs numbering 1410 for books and 648 for magazines) can be accessed
DELNET and NDL operations are available through the nodes (systems) present. Both these are also available to each faculty at their personal nodes.


FILES AT A GLANCE
LIBRARY POLICY: 1
LIBRARY STAFF: 2
Staff Portfolio File: 2S
Staff Development File: 2D
LIBRARY COORDINATION COMMITTEE: 3
Members Details: 3M1
Meeting Details: 3M2
LIBRARY NOTIFICATIONS: 4
Notifications from Management: 4M
Notifications for Students: 4S
Notifications for faculty/Staff: 4F
KNOWLEDGE MANAGEMENT CENTRE: 5
Journals Clipping: 5J
Newspapers Clipping: 5P
Career & Employment: 5C
Blogs: 5B (S. Nos. 1, 2, 3)

REPOSITORIES AND HOLDINGS (Type-I): 6

Accession Registers: 6AR1, 6AR2, 6AR3, 6AR4, 6AR5, 6AR6, 6AR7
Journals: 6J1 (Mgt), 6J2 (Comp Sc), 6J3 (Exchange)
Magazines: 6M1 (Subscribed through post/courier)
6M2 (Supply through local vendors)
Newspapers: 6P1
Donated Books: 6DB1
Bound Volumes of Journals: 6BVJ1 (Mgt), 6BVJ2 (Comp Sc)
Annuals: 6AN1
Subject Files by faculty: 6SFF (from S. No. 1 to 204)
Periodicals Subscription Correspondence: 6PC1, 6PC2, 6PC3
Periodicals Subscription: 6PS
Periodicals' CD/DVD: 6CD1, 6CD2
Journals Exchange: 6JE1 (Mgt), 6JE2 (Comp Sc)

REPOSITORIES AND HOLDINGS (Type-II): 7

SMS Functions Album: 7FA1 to 7FA53
SMS Functions CDs/DVDs: S0001 to S0152
SMS Orientation Schedules: 7O1
SMS Publications: 7P1 (S. Nos. 1 to 27)

SERVICE OPERATIONS: 8

Library Operations at a Glance: 8LOG
Students' Entry Register: 8SE1 (UG), 8SE2 (PG)
Faculty Entry Register: 8FE
Students' Issue Register: 8SI1 (UG), 8SI2 (PG)
Faculty Issue Register: 8FI
Staff Issue Register: 8SI
Faculty Loan & Visit: 8FLV
Approval of Books: 8APR
Order Book: 8ORB (Series I, II, III etc)
Daily Reconciliation: 8DR
DELNET 8DEL1
ILL (DELNET): 8DEL2
NDL: 8NDL
LIBSYS: 8LSY
Stock Verification: 8SV
Newspaper-in-Education: 8NIE
Library Fines: 8FN
Periodicals Disposal Record: 8DIS1 (disposed material)
8DIS2 (correspondence or any filing)
Lost & Paid: 8LP
Magazines' Bills: 8MB (S. Nos. 1 to 5)
Newspapers' Bills: 8NB
Books' Bills: 8BB (S. Nos. 1 to 5)
Binding of Books and Journals: 8BBJ

LIBRARY EXTERNAL MEMBERSHIP: 9A
EXTERNAL MEMBERSHIP FOR SMS: 9B
SUGGESTIONS & FEEDBACK: 10
(By Faculty, Staff, Students)
REQUISITIONS (Online & Offline): 11
By Faculty & Staff: 11F
By Students: 11S